IN THE BEGINNING...
1969
Don Sheasby and Lorna Quinton started making copper jewellery while employed by the Cape Town City Council.

1970
During 1970 they invested in gem-cutting equipment and a jeweller's rolling mill.

They began working in silver and supplying local boutiques with their handmade articles.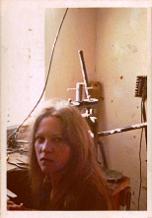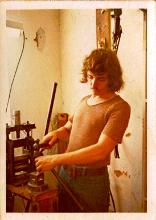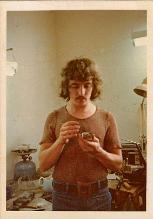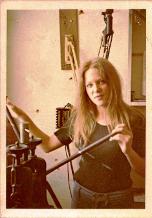 1971
A very successful promotion was arranged by Garlicks Department Store featuring their hand-crafted silver & gemstones.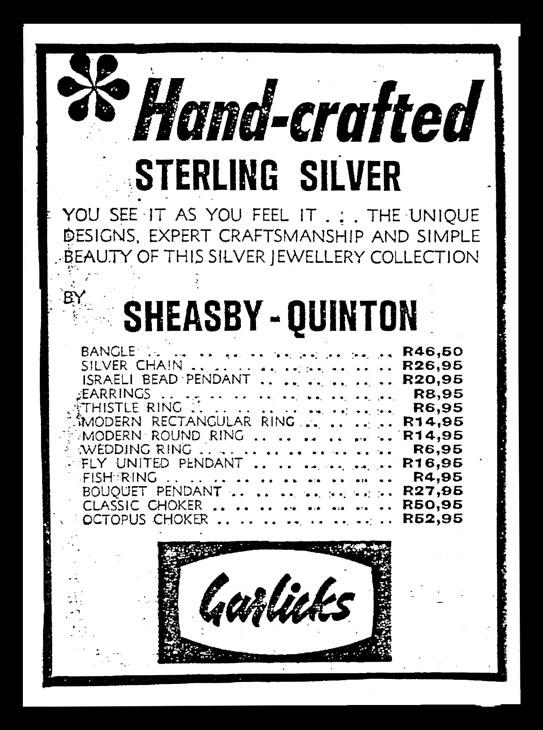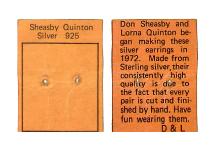 Don and Lorna began supplying a wide range of inexpensive earrings to shops and boutiques all over South Africa.
This was when the pierced earring craze was sweeping the USA and Europe.
There were no manufacturers producing these earrings locally,

Don & Lorna were the first to manufacture post-earrings in SA.
1973
They married on Valentine's Day.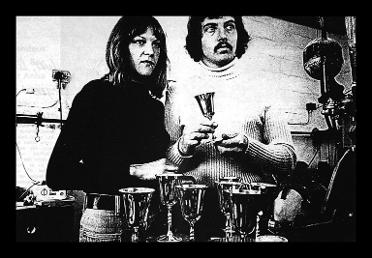 Don taught jewellery classes at the Cape Town Art Centre and at the end of that year he established his own classes at home.
At this time he produced his first work in hollow ware - a set of eight wine goblets for a wine farmer.
Lorna was pursuing gemcutting and her stones often featured in their jewellery.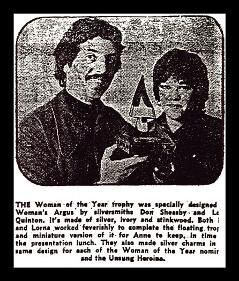 Don & Lorna designed and made the silver, ivory and stinkwood trophy for the very first Argus Woman of the Year Award, held in 1976, as well as the miniature version and the pendant replicas.
1978
Their first daughter, Blaise, was born and at the tender age of two weeks was, with her parents, a founder member of the Oude Wynberg Craft Market.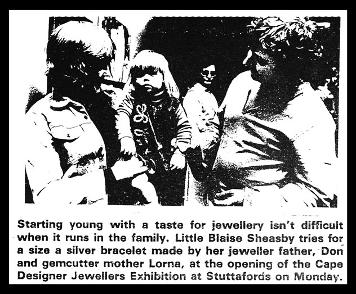 The combined talents of their gemcutting and jewellery-making was exhibited at the Cape Designer Jewellery Exhibition at Stuttafords.
In the same year, they established the Herrer's Lane Streetmartket - the second oldest in Cape Town after the Grand Parade.

1982
Their second daughter, Cassandra, was born.
1983

Don began restoring antique silver for Mr Hans Niehaus of Claremont. This led to many other antique dealers supplying articles for restoration.
In order to successfully and competently carry out the work, necessitated study not only of the restoration itself, but also the original methods of crafsmanship and the composition of metals and their treatment - all before the Internet made information instantly available.

Apart from "the conservation of antiquities and works of art" by HJ Plenderleith, Don has scoured countless books and texts to hone his skills.
1987
The Cultural History Museum in Cape Town commissioned Don to replicate three pairs of handles and devise a mirror copy escutcheon to be fitted to the stinkwood and satinwood armoire donated to the Museum by the Rowland and Leta Hill Trust. These were completed and delivered in 1988.
1990

As a professional silversmith, Don could not competatively enter The South African National Gem Show under the auspices of The Federation of South African Gem and Mieralogical Societies in 1990 but nevertheless won a special merit award for craftsmanship.
Lorna chose to exhibit rather than compete and won a special merit award for her display of optical phenomena gemstones.
1991

Don and Lorna were awarded second prize for their silverware and jewellery at the National Smith's Conference held at the Worcester Museum in September 1991.
At the conference, Don was elected to the Committee of the South African Smith's Guild as the representative of the gold and silversmiths.